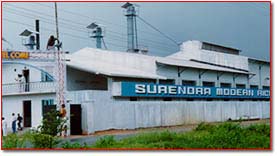 Palakkad, the gateway of Kerala and it is also known as the 'granary of Kerala'. Kollengode is a small town, situated nearly 25 kms. away from the Palakkad Town. It is a beautiful village surrounded by green paddy fields all around with irrigation facilities from Chulliar Dam. The village is dominated by agriculturists.

Surendra Modern Rice Mill is situated at Payyalore near Kollengode where the famous Kachankurissi Vishnu Temple is situated. It is a well equipped Modern Rice Mill with all latest and modern types of automatic, production machinery.
Contact Address
SURENDRA MODERN RICE MILL
Payyalore Road, Kollengode - 678 506
Palakkad, Kerala State, INDIA.
Telephone :

Fax :
91 - 4923 - 262009 (Mill),
91 - 4923 - 262489 (Res)
91 - 4923 - 262039
E-mail :
sooraj@palakkadonline.com