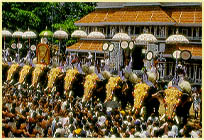 The Famous temples of Palakkad are Vadakkanthara Tirupuraikkal Bhagavathy Temple, Manappullikkavu Bhagavathy Temple, Nurani Saneeswaran Temple, the ancient Kalpathy Siva Temple, Kallekulangara Emoor Bhagavathy Temple, Kodumbu Subrahmanya Temple, Chittur Bhagavathy Temple, Mangote Bhagavathy Temple, the famous Jain Temple near Vadakkanthara is known as "Chandranatha Temple" etc. There are many Mosques and Churches also.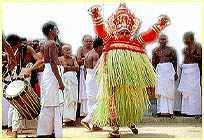 Chittur Kongan Pada, Nemmara-Vallengy Vela, Vadakkanthara Vela (once in 3 years), Manappullikkavu Vela, Kallekulangara Elephant race, Kalpathy Theru festival, Kavassery Pooram, Kannambra Vela, Chinakkathur Pooram, Puthunagaram Theruvath Palli Nercha, Pattambi Nercha are some of the famous celebrations.

Kalapoottu Malsaram, Kanniar Kali, Porattu Kali are some of the artistic culture of Palakkad. Chembai Bhagavather - Kottayi Agraharam, Nurani Agraharam, Kalpathy agraharam, Nellissery gramam are some of the age old brahmin agraharams. There are many ancient aristocratic Nair families and Namboodiri Illams also. Being on the border of Tamilnadu, there is a mingling of Tamil culture also.